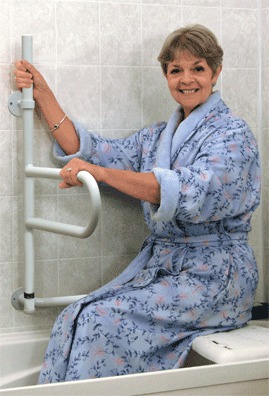 HealthCraft
Accessibility
The *SuperPole™* * System* is an award winning modular support system designed for those requiring assistance with standing, transferring, or moving in bed. Installs anywhere there is a floor and ceiling, placing transfer support directly where it is needed. Use it beside a bed, bath, toilet or chair. Custom ceiling heights available. The SuperPole™ also serves as a mounting support for a complete range of options that can be varied to meet changing needs: The SuperBar™, SuperTrapeze™, SuperTray™ & Safety Island™.
The *P.T. Rail™* is a wall mounted support rail which promotes safe standing and transfers to and from a toilet. Combines an exceptionally solid feel, and an innovative offset rail design.
The *Dependa-Bar™* is a revolutionary combination of standard wall mounted grab bar, with the well proven benefits of the *SuperBar™* for movable support.Dependa-Bar™ locks every 45° (5 positions), providing a support rail that moves with user.
The * Advantage Rail™* is a floor mounted support rail which promotes safe and independent standing and transfers. The key to the effectiveness of the *Advantage Rail™* is in the unique operation of the horizontal rail.
The *AssistaRail™* is an "inverted U" style bed rail for home beds, providing a unique combination of occupant safety and in-bed mobility.
The *Smart-Rail™* is an innovative bed assist rail designed for those of us requiring a little help for moving, standing and transferring in and out of bed. Unlike fixed-style bed rails, our *Smart-Rail™* can unlock and pivot outwards to provide better standing support with less reaching and twisting.
Pictured here is a sampling of what we have to offer. These pictures were provided by Healthcraft.